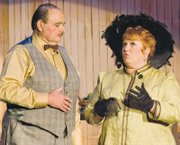 I love community theater, and the "Over the Hill Senior Theatricals" production of "Hello Dolly" only solidifies why.
This comical musical is a gem of a production. The cast of characters brought to life on the stage paints a portrait of the 1890's mentality, but it is a classic because much of the themes still hold true in certain circles of today's society.
The characters, in search of a marital partner, seek love or fortune. The antics used to obtain their desires are bound to keep one in stitches.
Horace Vandergelder, portrayed by Lloyd Hazzard, is a wealthy man in search of a mate to keep his home in order. He wants a wife who will clean the drains, take out the ashes, shovel the snow and "work into eternity," as explained in the song "It Takes a Woman."
Sheila Hazzard's character, Dolly Gallagher Levi, married for love, but lost her husband Ephram. She is a self-proclaimed meddler and is in the business of matchmaking, but finds herself wanting a new husband.
She has already been in the process of matching Vandergelder with Irene Molloy (Susan Webber), a shopkeeper in the nearby town of New York.
Vandergelder's niece, Ermengarde (Jill Shuttleworth) is in love with an artist, Ambrose Kemper (Paul Brooks). Vandergelder is none-too-happy about this and must be convinced the match is acceptable.
The whole lot catches the train to New York for a variety of reasons, and Vandergelder's two clerks, portrayed by Doug Hansen and Tom Stegeman, also devise a way in which they might have the night off, traveling to New York, as well.
In New York mischief and scheming are afoot. Each embarks on an adventure that lands all but Dolly in court.
Molloy and Hansen's Cornelius Hackl have found one another by happenstance. Her best friend Minnie Fay (Karen Santos) and Stegeman's Barnaby Tucker are also struck by one another.
Dolly, in the meantime, schemes to win the heart of Vandergelder. She pulls a few tricks and entertains the audience with her underhanded ways.
All the while, she is helping Ermengarde and Kemper, Molloy and Hackl, and Fay and Tucker.
"Hello Dolly" is truly an entertaining and lively production that showcases the talented individuals living in the Lower Valley.
Odd moments, such as a microphone accidentally left on back stage, lend to the creativity and character of the production. The calamity and chaos mix to provide some very humorous moments.
This is raw, unadulterated fun for audiences to enjoy.
The production, staged this past weekend is scheduled for two more shows at the Sunnyside High School auditorium. Community members can enjoy the show Saturday, Oct. 10, at 7 p.m. or Sunday, Oct. 11, at 2 p.m.
Tickets are $8 for children under the age of 12 and seniors, and $10 for adults.