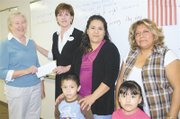 A $4,000 donation by Sunnyside's U.S. Bank branch will help Nuestra Casa reach its goal of developing an early childhood enrichment program for the children of students in the organization's English as a Second Language classes.
Sister Mary Rita Rohde said the children's program will help parents, as well as the youngsters. She said it is believed the children will learn skills preparing them for kindergarten and parents will be able to better focus on their studies.
In this way, several members of the family can be actively involved in the learning process, said Rohde.
"There are parents studying English at various levels," she shared, stating the children would be provided English speaking skills through the early childhood enrichment program throughout the approximately 10 months the parents are in class.
"There are children who struggle in school because they don't have the skills they need," Rohde explained, stating Nuestra Casa hopes to give them an edge.
The parents, she stated, enjoy participating in class. Some attend more than one class, taking advantage of the many opportunities made available.
"It's not as easy when the children don't have activities they can do, but the enrichment program would give them those activities," said Rohde, stating the doors of opportunity would be opened for those wanting to attend more than one class each week.
Explaining, she said parents in level two will sometimes attend classes when the level three students are at Nuestra Casa and vice versa.
"It gives them an opportunity to speak English as often as possible," explained Rohde.
While the parents attend those classes, the youngsters will enjoy time learning their alphabet, numbers, shapes and colors.
"Everyone wins," Rohde said.