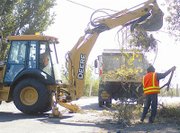 GRANDVIEW - In a show of support for Proposition 1, also known as the law and justice tax, Grandview City Council members Monday night adopted a resolution proclaiming their stance on the issue.
The resolution states the city receives approximately $170,000 as a result of the three-tenths of one percent sales tax.
The tax is due to sunset in 2010 and will be on the Nov. 3, 2009 election ballots for voters to re-affirm the tax. If approved the sunset on the tax will be extended to 2016.
Councilman Jessie Palacios spoke Monday regarding the resolution. "Normally I do not believe in cities endorsing propositions that would raise taxes, but I believe this is an exception," he shared.
He said Proposition 1 is important to the city of Grandview and its law enforcement efforts.
"I believe it is especially important because it supports courts in the Lower Valley," agreed Councilwoman Joan Souders.
The resolution mirrors those statements, stating, "These funds are vital to the city in helping to provide important law enforcement services to the residents of our community."
Councilwoman Diana Jennings shared that she recently went on a ride along with two Grandview Police officers. She said her feelings regarding funding provided through Proposition 1 is something she, too, feels is vital.
Explaining her view, she told her fellow council members she was impressed with the professionalism she witnessed, as well as the effectiveness of the officers.
Jennings said she feels the law and justice funding does much to encourage the quality of service the officers provide.
There was no dissenting statement made in regard to Proposition 1 and the council unanimously approved the resolution in support of the proposed tax.