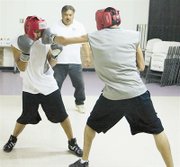 GRANGER - Round 3 Boxing Club in Granger will soon enter its fourth year of existence this November. What was once just a pipe dream is now a solidified, recognized boxing club in the Lower Valley with more to come.
Round 3 Boxing clubs was the idea of Hiram Cantu of Northwest Community Action Center in Toppenish, said Valdomero Valenzuela, the head of Round 3 Boxing Club in Granger.
Valenzuela said the premise of the club is to help kids who might be at-risk.
He explained that youngsters who don't do well enough in school aren't allowed to play school sports. Whether it is bad grades or too many absences, these kids are barred from playing sports and this leaves them vulnerable and at-risk of coming into contact with gangs or drugs.
"The club gives them another opportunity to play sports," Valenzuela said.
The first Lower Valley club was started in Zillah, where Valenzuela helped coach. Soon there was enough interest in Granger so a club was started there in November of 2006.
Valenzuela said the goal is to get a boxing club in every city in the Lower Valley. Currently there are three, one each in Zillah, Granger and Grandview. Two more are in the works for Prosser and Wapato.
Round 3 Boxing is sanctioned by U.S.A. Boxing and all of its coaches are certified. The Granger club meets three times a week on Monday, Wednesday and Friday, from 5 to 6:30 p.m. There they learn the basics of boxing.
The purpose of the club is to teach the boxers to learn how to defend themselves, Valenzuela said.
"They learn how to walk away," he added. "We're not teaching them how to beat someone up, but how to defend themselves."
He recounted a story a school counselor recently told him that makes him believe he's on the right track with the boxing club.
Valenzuela said one of his boxers was confronted in school by a gang member who wanted to fight. Unimpressed, the boxer walked away.
"That meant a lot to me when the counselor told me that story," Valenzuela said. "He stood up for himself the way we want him to."
The boxers at Round 3 Boxing Club can have no gang affiliation and are prohibited from engaging in criminal activity. Each boxer must sign a contract with the club agreeing to these rules. They get two chances but the third time is the third strike and they are out of the club.
Cost to join the club is $37 a year. The boxers must purchase their own fighting gear, such as mouth pieces and clothes, but head gear and gloves are provided by U.S.A. Boxing.
Since the club began in 2006 Valenzuela said more than 100 kids have registered. Between 15 and 25 boxers now show up on a regular basis.
At first Valenzuela said he was targeting at-risk youth but soon found there was greater interest in the club. Now his youngest boxer is eight-years-old and his oldest is 33.
The club tries to attend fights once or twice a month. The club will host the 'Battle in the Valley' this Saturday, Oct. 10, at 2 p.m., at Granger High School in the gym.
So far at least 40 fighters are planning on showing up and Valenzuela is in the process of matching the boxers up by age, weight and the number of fights they have fought.
Admission to the event is $10 but those 10 and under are admitted for free.
For more information about the 'Battle of the Valley' or Round 3 Boxing Club in Granger, Valenzuela can be contacted at 830-1833.