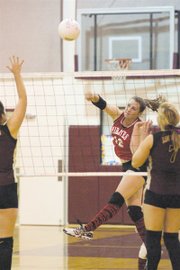 Defending its home court well, the Sunnyside Christian High School girls volleyball team pulled off a three games to one victory last night against the visiting Bickleton Lady Pirates.
"I told the girls that we were going to have to play hard and fight for every point," said SCHS Coach Stephanie Greydanus.
"We knew Bickleton would come and play hard against us.
"My players played hard for this win," Greydanus said of her club's 25-22, 28-26, 25-27, 25-18 victory.
The Lady Knight coach noted that the second and third games came down to a serving battle. Greydanus credited Kathleen Dolan and Ashley Haak with leading the way from the service line.
Dolan was perfect in putting balls into play, registering a 21-for-21 effort with her serves. Haak topped that, going 24-for-24 from the service line.
Bickleton Coach Kim Clinton was anything but pleased with her team's effort last night. "We played terrible and they played well...end of story," she said.
"We just never got the train going as the saying goes," Clinton added.
The Lady Pirate coach explained that her team played from behind in each of the four games. "We certainly had opportunities but we just didn't capitalize."
Winning the battle at the net for Sunnyside Christian were Janelle DeGroot and Kelly Newhouse. Each came through with eight kills. Teammate Maddy Wavrin added a three-block performance for the winners.
The Haak girls, Ashley and Alyssa, were on with their setting last night, combining for 15 assists against Bickleton.
Passing-wise, the Lady Knights got good efforts from DeGroot, Alyssa Haak, Dolan and Newhouse with 11, nine, eight and eight perfect passes, respectively.
Sunnyside Christian's next league match is Tuesday, Oct. 13, at Glenwood.
Bickleton is scheduled to play at Kahlotus this coming Thursday and at Mabton this coming Saturday.