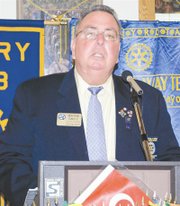 "We, as Rotarians, can look back upon the years and see the difference we have made in the lives of others, bringing change to the world," said Rotary District 5060 Governor Wayne Rimple.
He was the guest speaker Monday at the Sunnyside Noon Rotary Club's weekly meeting and is making the rounds to Rotary clubs throughout the Lower Valley.
Rimple said much of what Rotary International has accomplished has been a result of individual ideas.
"We belong to one of the most influential organizations in the world," he told the Noon Rotarians.
The first Rotary project, he said, was in 1908. It involved providing public restrooms in the city of Chicago.
Now, Rotary has a seat on the United Nations and combined efforts of Rotarians are helping provide polio vaccines worldwide.
Rimple's message was about the "Power of One."
"It begins with you," he said, sharing one individual can devise an idea that will affect many others. Working together, Rotarians have been able to accomplish much, he said, as an example pointing out Rotarians are providing drinking water to people without it.
Rotary International founder Paul Harris was one individual. He wanted professional friendship and conversation, asked three other individuals to join him and the organization has grown to span many nations in just more than 100 years.
"Paul Harris knew what he wanted and he did it...the power of one," said Rimple.
District 5060, too, has developed a program that resulted from the idea of one individual within the area. That project involves the performance of surgical procedures around the world, correcting cleft palates.
Rimple provided another example, explaining Rotarians have provided the means to start an industry that makes cisterns for remote areas of the Rift Valley in Africa.
He said, "Working together we leave a lasting impression, making change worldwide."
Rimple continued to share the many accomplishments of Rotary International and how those accomplishments were the result of individuals within the organization.
"We have the wheel, so don't try to reinvent it," Rimple said, explaining the purpose of Rotary is to exemplify "Service Above Self" and work together to make dreams happen...whether those dreams involve a mission to help the local community or the world beyond the community.