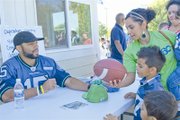 GRANDVIEW - A new playground that has been eagerly anticipated by Grandview city officials and residents was officially dedicated yesterday.
The playground, located at Country Park, was made possible through a $25,000 donation by the Seattle Seahawks as part of the NFL Play 60 Legacy grant.
The football league's Play 60 program emphasizes the importance of fitness, with a focus on decreasing the numbers of children suffering from childhood obesity.
"This was really a community effort, though," said Grandview Parks and Recreation Director Mike Carpenter, explaining the city had to raise additional funding through other organizations to fund the playground.
He said an anonymous donor contributed $10,000, Teddy Bear Corner donated $2,000, the Wal-Mart Distribution Center threw in another $2,000 and the city contributed $5,500 to the project.
Two benches were donated by the Grandview Kiwanis Club at a value of just under $1,200, and Columbia River Steel and Construction donated time and labor toward assembling the equipment for the playground. Also helping with the effort was the city's engineering firm, Huibretse, Louman and Associates.
Students from Compass High School in Grandview volunteered to spread the wood chips that cushion the playground area, as well.
At yesterday's ceremony, students from Teddy Bear Corner and Grandview elementary schools were on hand to enjoy the new playground.
Seahawks quarterback Seneca Wallace and alum Paul Johns, as well as Blitz and Sea gals Jessica and Natalie were all present for the ceremony.
Wallace spoke to the youngsters present at the event, telling them of the importance of exercise. He said he spent much of his youth playing outside to keep healthy and advised the youngsters to do so also.
The Grandview Rotary Club donated hot dogs and water and the Yakima Valley Community College Grandview campus associated student body representatives brought treats for everyone to enjoy.
"Former Grandview High School student Teresa Morales-Santoy worked with the marketing department of the Seahawks and she helped us obtain the Play 60 Legacy grant," Carpenter explained, stating the combined support of the community and the Seahawks organization gives him a sense of pride.
The equipment was ordered this past July and arrived in August. It was installed and the project completed just last week.
Marking the occasion, said Carpenter, will be a plaque honoring those involved in the project.
"This is considered part of our centennial celebration," he said, stating the occasion will be one for Grandview's history books.