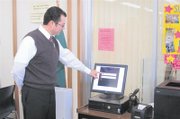 Before she left for a position in Seattle, former Sunnyside librarian Amy Ravenholt gave the library the gift that keeps on giving in the form of requests for technology upgrades.
The fruit of those inquiries is now evident as a Gates grant funded 13 new computers for work stations at the library.
Further, current Librarian Francisco Garcia-Ortiz followed up on Ravenholt's funding requests to the regional library system. That has resulted in express digital check-out systems where the public on its own can check books out of the library.
During a technology party yesterday, Tuesday, Garcia-Ortiz said all of the improvements have happened since summer of this year. The upgrades also include a touch screen reservation system where library users can reserve a computer station for future use.
The reservation system and express check-out are both bi-lingual.
Besides new computers, there is a high speed internet connection for all of the computer stations.
There's even a new coin-operated copy machine at the library, replacing one that had been in use for more than a decade.
In addition to technology, the Sunnyside Library has undergone a facelift in recent months, with new paint and concrete walkways near the entrance. Inside, the library has a new circulation desk. Garcia-Ortiz said the desk was a must because the old one did not have a slot big enough to accept returned books.
Garcia-Ortiz is quick to give credit to Ravenholt for getting the ball rolling on the numerous upgrades at the Sunnyside Library. His part, he said, was simply to follow up on the funding requests.
Not only did Ravenholt instigate the upgrade movement, but Garcia-Ortiz said yesterday's party - complete with desserts and snacks - was paid for out of the former librarian's own pocket as a way to celebrate the progress.