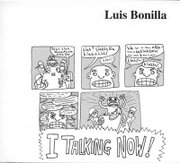 From the opening salvo, trombonist Luis Bonilla takes control in his new CD, I Talking Now.
The title song from the CD is based on Bonilla's childhood memory of his father interrupting incessant family chatter by saying "I talking now."
It's also the first song on this compilation of original music written by Bonilla, and it jumps from the start.
After a charged, sassy trombone opening by Bonilla, the song "I Talking Now" gives way to a nice piano solo by Arturo O'Farrill, with frenetic backing drums by John Riley.
O'Farrill is a madman on the piano, and the staccato pacing of the drums and piano is a nice change of pace from Bonilla's trombone blast.
The opening song also sets the tone for what's to come as Bonilla includes a moody, backbeat driven break that's worthy of a film noir. Humphrey Bogart where are you?
And that's what makes this a winning CD.
Bonilla throws it all at you - rock, jazz, salsa and even some movie-inspired tunes - and for the most part it all works.
There are some exceptions; "Uh, Uh, Uh..." feels like a tapestry of big city life, but it meanders a bit too much in the hustle and bustle and the lure of Bonilla's trombone lingers too long, like an angry motorist laying on the horn.
But even in Bonilla's missteps there is something to like. The restrained tempo of "No Looking Back," for example, is a bit long at nearly nine minutes. Yet the mellow bass of Andy McKee and soothing sax of Ivan Renta blend nicely with the use of cymbals to give the illusion of rain falling, a soothing coffee house vibe.
Bonilla shows off his chops - both as a trombonist and composer - elsewhere on this CD. On "Closer Still," he opens with a refrain that you'd think came from a 1970s Chicago record. The siren song of the horns then gives way to O'Farrill's restrained piano runs.
Flash back to the 1940s and Bonilla seems to be there, too. On "Fifty-Eight" Bonilla opens with a big band sound, before making way for an all-out jam.
Bonilla has a tribute to Arthur Ashe, "Triumph," and while it's a nice gesture it didn't do a whole lot for me musically.
I Talking Now ends where it starts, with a tribute to Bonilla's family. The next to last song, "Luminescence," is a nod to Bonilla's niece filled with a gentle trombone that almost caresses the ear.
"Elis," the final song, is for Bonilla's two-year-old daughter. The opening is almost too restrained, too gentle. It's almost inaudible. But that quickly changes to a Bonilla trombone solo that seems to channel the Billie Holiday standard, "God Bless the Child."
As with the opening salvo, the CD ends on a sassy note, with Bonilla's trombone perhaps mirroring the real life experience of raising a "terrible two."
But wait.
Just as the CD sounds like it's over, Bonilla has one more salvo, a staccato trombone that feeds a bass and drum line. It gives way for once and for all to a sweet tenor sax that plays us home.
From beginning to end in I Talking Now, Bonilla lets us know he's talking now. It's a conversation worth having.