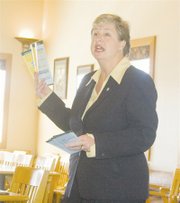 OUTLOOK - The Saturday before the scariest night of the year, Outlook Elementary School will host its annual Halloween carnival.
This year's carnival will be staged at the Outlook school on Saturday, Oct. 24, from 5 to 8 p.m. The fun-filled event is geared for entire families to attend.
"We'll have our game booths again, along with the cakewalk and bingo," said school spokesman Chantelle Hutchinson.
"The kitchen will also be open for dinner," Hutchinson said, noting the food items to be offered will include a taco plate, nachos, pizza, corn dogs and pie.
Hutchinson said a new attraction at this year's carnival will be a haunted house, set up in one of the school wings. The haunted house, she said, will be open to visitors from 5:30 to 7 p.m.