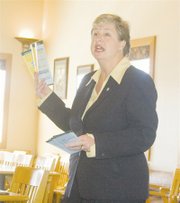 Jacque Coe shook hands with 19 millionaires last year.
Yesterday, Thursday, the Washington Lottery's communications manager was in Sunnyside for a presentation to the Sunnyside Chamber of Commerce on where the lottery dollars go.
Coe noted that 60 percent of the money received by the Washington Lottery is spent in prize money. That's important, she added, noting that if the lottery doesn't pay out enough winnings then people will stop playing.
With the Mega-Millions jackpot now at about $140 million, Coe said there will be more people participating in the lottery. When a jackpot gets to $200 million or $300 million, she added, then lines begin to form at ticket stands.
Besides the chance that someone will win all that money, Coe said large jackpots are a windfall for the state, garnering tens of millions of dollars in unanticipated revenue.
About 20 percent of the state's lottery receipts are spent on capital expenses for K-12 school districts and universities.
Here in Sunnyside, construction of Sierra Vista Middle School and Sun Valley Elementary School received some lottery dollars. Coe couldn't say how much exactly because the lottery dollars for schools are intermingled with other funds when they are doled out to school districts.
By voter-approved initiative, lottery money has to go to education, but in this time of recession Coe said legislators last year passed a temporary bill that will put all the lottery money into the general fund for the next two years.
Besides helping to build school buildings here, the lottery has had a notable impact on Sunnyside businesses, Coe said.
According to figures as of year-end 2008, Sunnyside has 22 retailers who had a combined $1.6 million in lottery sales. She said a total of $875,000 in lottery prize money was won in Sunnyside during 2008, generating $98,000 in commissions to retailers.
Besides getting the word out about the lottery, Coe said part of her job is to hand lottery winners those big million-dollar checks.
"It's a poignant, emotional moment in life," she said of the responses she's witnessed when people realize they are instant millionaires.
In other business yesterday, the chamber announced that a ribbon cutting will be held at Wal-Mart on Wednesday, Oct. 14, at 7 a.m.
It was also announced that the next Tri-Chamber social will be held at Columbia River Bank in Sunnyside on Tuesday, Oct. 20, at 5:30 p.m.
The chamber announced the date of its annual banquet, set for March 13, 2010. There will be a red, white and blue theme, said chamber director Pam Turner, as a fundraiser will be held during the banquet to help bring a July 4 fireworks show back to Sunnyside next year.