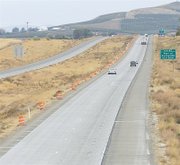 Five more days and motorists will no longer see the big orange cones along the Lower Valley westbound lanes of I-82.
That's according to Paul Gonseth, Washington Department of Transportation project manager.
He said the contractor for the project, Granite NW Inc., has completed work installing dowel bars and rehabilitating the concrete that will improve travel between Grandview's exit 73 and just beyond the Granger exit.
All that is left to complete the project is striping and some sealing of concrete joints.
"The striping is set to begin Monday," said Gonseth, adding the work is expected to take an additional five days, weather permitting.
"Expect the project to be completed over a five-day time span," he continued.
The project was funded through American Recovery and Reinvestment Act dollars and began this past July.
The Washington Department of Transportation initiated the project to restore the structural integrity of the roadway and to extend the life of the pavement on the westbound right lane of the well-traveled section of I-82. There was faulting between panels of pavement and the ride was considered "rough," especially in the right lane of the freeway.
The benefit of the project, officials said earlier this year, is enhanced driver safety and a smoother roadway.
An estimated 105 jobs were supported as a result of the project, which cost an estimated $7.2 million, 40 percent below the Washington State Department of Transportation engineers' estimate.
Funding not used in the project, which totaled more than $11 million, will be used by the department to complete a tier two project previously identified on a list of projects statewide.