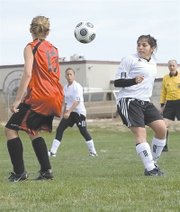 GRANDVIEW - The Lady 'Hounds this past Saturday gave the visiting Othello Huskies a run for their money.
According to Grandview Coach Anne Holden, her team's 2-1 loss was not easily handed to the Huskies.
"It was great fun...we actually played (as we should) and it was good," she said.
The first to score was Lady 'Hound Karissa Trinidad at the five-minute mark.
"The freshman team did it again," Holden commented, stating Grandview's O'Ryian Matheny set the ball up for Trinidad, who scored using her left foot.
"It surprised everyone...Othello is the number one team from the north league and Karissa's goal was unexpected," Holden beamed.
The Lady 'Hounds still had their work set before them as Othello's Vanessa McDonald equalized the score, getting the ball past Grandview keeper Stephanie Soto 10 minutes later.
"The ironic piece of the match was in the second half," Holden said.
The Lady 'Hounds had the ball and went on the attack 59 minutes into the match. Gio Gomez, Trinidad and Matheny each had a chance at the goal, but were unable to capitalize on the three attempts at the crossbars from within the six-yard box.
The Huskies scrambled to cover and went on the counter-attack to score at the 69-minute mark. Earning the goal was Othello's Alexis Martinez.
"It was very close with both teams having nine shots on goal," Holden commented.
She said Soto was "brilliant," with her seven saves and the Lady 'Hounds kept Aleesha Reyes of Othello busy, as well.
Leading up to the match, Holden said her team worked on "...keeping shape and position.
"We were weak in that area."
She said the practice worked well to give Grandview a chance at winning.
"Telling them to reset, one could see the team get into position and work hard to do what was necessary to keep the shape," said Holden, adding her team left the game with a realization that doing as they have practiced will help them become more competitive in future matches.
"They understand if they keep their spaces covered, they can keep their shape and they will get the ball," she shared.
Grandview takes to the home field tomorrow (Tuesday) against East Valley.