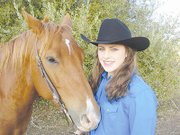 BICKLETON - Katelynn Clinton, a junior at Bickleton High School, was recently selected the Alder Creek Pioneer Picnic and Rodeo Queen for 2010.
Clinton, who will receive her crown and begin her reign in January 2010, is the daughter of David and Kim Clinton, a wheat farming family in the Bickleton area.
The Clinton name is not a stranger to the historic Alder Creek picnic and rodeo, as Katelynn is the sixth generation of her family to be involved with the event. In fact, her great, great, great grandfather was the third president of the picnic back in 1914-15.
The 2010 pioneer and rodeo - June 12-13 - will be the 100th in the event's long history, and Clinton said that will play a major factor in her reign next year.
"I want to be able to bring in more people since it will be the 100th," she said. "I want to make sure this rodeo is the biggest celebration Bickleton has ever had."
One way she'll do that is travel far and wide to rodeos and parades throughout the region, ranging from The Dalles, Ore. to the Ellensburg Rodeo.
The goal, she says, is to "represent what a great community Bickleton is."
Clinton earned the royal title during a tryout held Saturday, Oct. 3, which included intricate horse riding maneuvers.
Clinton and her hose, Zip, came through with flying colors.
Speaking of horses, Clinton's experience with the picnic and rodeo include working with horses of another color - the figurines on the historic Alder Creek carousel.
"I've been helping with the carousel ever since I was old enough," she said.
Clinton carries a 3.94 grade point average and is active in volleyball, basketball and track. Clinton has also shown steers for 4-H and works on the family farm.
After high school, Clinton said she is interested in playing basketball in college and study to become either a graphic designer or an athletic trainer.
Clinton said she has wanted to be the Alder Creek picnic and rodeo queen ever since she was a little girl.
"It's a dream come true," she said. "Zip and I will be excited to represent our friends and neighbors, and will put our whole heart into making them proud of us."