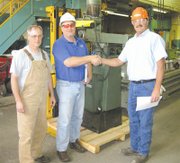 Boise Paper near Walla Walla has donated a milling machine to the Sunnyside High School welding shop.
SHS welding teacher Tom Dolan said he was approached by Boise Paper's Chuck Fairbairn, who asked if it was something the students could use in the shop.
"The one we currently have at the school is quite old and many of the parts are damaged or missing," said Dolan. "The opportunity to acquire this type of machine is exciting because welding and machining go hand in hand."
Dolan explained the machine provides precision work. "This type of machine is used everyday worldwide to fabricate parts for everything from lawnmower engines to probes for nuclear waste tanks," he said. "If an item has a precision part, chances are it was made with a machine like this one."
Dolan said, "Having a machine to introduce students to this field gives them an advantage when they attend a school like Perry Tech, where they have the opportunity to make a very comfortable living with this skill."
Dolan said every industry depends on welding and machining. "The people that provide our kids with the chance to learn these skills at a young age deserve a pat on the back," Dolan said, adding that Fairbairn has offered to do so on his days off.
And, he added, "I have found this area to be full of people like this. I think that's why I look forward to going to work every day."
Dolan said he believes the machine is valued between $8,000 to $10,000, something the welding shop's budget couldn't afford.