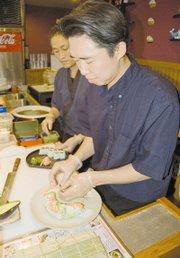 Finding that perfect combination of flavors is the dragon most sushi chefs chase and James Kim is no different.
Kim is one of the sushi chefs at the newly opened Sakura Teriyaki and Sushi in Sunnyside. After having spent the past four years working in sushi restaurants from Federal Way to Kent, Kim ventured to Sunnyside when some his friends opened Sakura.
Kim, originally from Korea, studied the art of sushi-making in his home country at a school for three months.
"We learn everything about sushi," he said.
The most important lesson he learned, Kim said, is that the fish must be kept fresh.
That's no small task at Sakura, where seafood such as octopus, squid, white tuna, mackerel, salmon eggs, tuna, yellow tail tuna, shrimp, eel and albacore tuna are all served.
Another challenge is to mix and match the meats to come up with the perfect taste.
"Working in a sushi bar is better for this than learning in school," Kim said.
In school he was taught the standard practices of making sushi but in the restaurant he is able to experiment a little bit.
"I'm trying to find more combinations of taste," he said. "I'm still learning what other people's tastes are."
Making sushi isn't the hardest task in the work but it's also not as easy as it looks. Kim said at first making the perfect piece of sushi or a roll was difficult, but with time he has mastered the technique.
One customer favorite that Kim makes is called the James Bond sushi roll. This comes with crab, avocado and cucumber in a roll while the outside is layered with shrimp and avocado.
Being a sushi chef is fun, Kim said. He is able to create a wonderful tasting morsel of food for his customers and make them happy.
"If it makes them happy then I'm happy," he said.