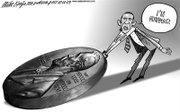 "The road to ruin is paved with good intentions," goes an old proverb.
In other words, promises and good intentions account for little in and of themselves - unless you're President Barack Obama.
In that case your promises of hope and change get you a Nobel prize and a million or so bucks - whether or not you follow through on your promises.
Now, I'm not saying the president is leading us on a road to ruin, though I wonder sometimes, but what I am saying is it's absurd to present an award based on a promise.
In fact, the Nobel nomination came just a couple of weeks into the new administration's time in office. Now we're nine months in and there's no indication some of those promises will be delivered.
While the president worries about his left, Iran has gone right ahead with its nuclear program and the Taliban has gone right ahead dismantling our progress in Afghanistan.
So, again, how is it the president gets the Nobel prize, of all things, based on his words?
As you may have read, the Daily Sun News won some awards at a recent Washington Newspaper Publishers Association competition. The awards were based on the work submitted.
Can you imagine the laughs and hee-haws in Olympia if the DSN told the association it promised to come up with some winning entries but provided nothing to show for it?
Just as ludicrous, could you imagine the WNPA giving us those awards without seeing the end result of our work?
But with this ignoble Nobel it seems we're in a new age where it's enough to have a good idea or say you're going to do something, then collect your reward whether or not you follow through.
That reminds me, I've got to ring up those Pulitzer folks and collect my award for that great story idea I have.
.
More like this story