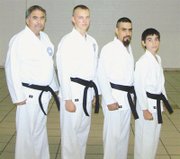 Commitment. Endeavoring to be a better person, always seeking perfection of personality. Self confidence. Faithfulness to governance. Masculinity without machismo. But most of all, respect.
That's what it has taken for Sunnyside's 16-year-old Konrad Grabner to earn his black belt in Tae Kwon Do after five years of study under Grand Master Lupe "Rocky" Gonzales, whose Do Jang is Navarro's Community Center.
For four nights a week for five years, Grabner has learned the ins and outs of the discipline.
In the beginning, though, it wasn't that simple.
"When I started I wasn't in very good shape," said Grabner. "I just kept practicing at home until I got better."
His mother, Vena Villanueva, said for the first couple months, Grabner didn't like it. But as a single parent longing for a strong male influence in her son's life, Villanueva told him he had to hang in there for just a year.
"It's good for girls because I think girls learn self defense," she said. "But a boy needs to learn to become a man, and that takes being around a good man, a man who knows what it means to be a man.
"It's hard for young men to become men in this society," she said.
Within a couple months, there was no convincing Grabner to go. He wanted to.
Over the course of five years, he said he's learned much, including a stronger level of concentration. "I don't get as frustrated. I can stay focused longer."
Grabner and his mother both agree it's a boon to his self confidence, too. And what's he's learned about respect has been amazing. "You learn to not treat people like you're better and not to brag about how you're better than other people," Grabner said.
His mother said she's seen a change in the level of respect Grabner demonstrates to her at home, too.
It's not that the journey to black belt has been without injury. "I broke my nose once in a tournament," he said. But, he added, he went on to do a kata, which can best be described as a memorized movement pattern.
To get his black belt, Grabner was up for almost a day. From 6 a.m. to 2 a.m. beginning Sept. 26, he was working toward it with breaks for meals and hourly breaks for water.
How he did during those 20 hours was judged by Grand Master Gonzales. "He was watching us, telling us what to do." Of being judged on demonstration of skill, he said, "It's more how he feels you did."
Villanueva and Grabner said that Grand Master Gonzales is a ninth degree black belt, very rare, with students who've gone on to teach Tae Kwon Do.
His oath includes faithfulness to governance, whether it's federal, local, parental or at school. It also includes seeking perfection of personality, endeavoring to reach goals, respecting others, and masculinity without coarseness. In other words, there's no room for machismo.
Earning his black belt requires an additional year of training to earn his first degree. That's part of the commitment to even getting as far as Grabner has.
Grabner's also learning to teach younger ones in the Do Jang. "He's passing his knowledge on to the younger ones, so that's a skill he's learning," said Villanueva.