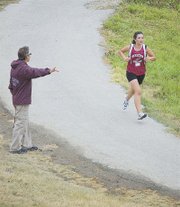 GRANGER - A course that was a little longer than the anticipated 3.2 miles didn't hinder Bickleton's Christiana Wilson, who crossed the finish line first against the likes of female runners from Ki-Be, Granger and Goldendale.
Times were unavailable as of press time but Granger's Chris Vickers provided some of the numbers for those finishing the course.
The course was not set up properly for the league meet, which contributes to why times are unavailable, Vickers said. It was not a league meet for Yakama Nation Tribal and Bickleton.
Ki-Be won the meet overall with 33 points, Granger earned 42 points and Goldendale earned 64.
Bickleton Pirate Junior Hernandez finished the longer than expected course in second place in the boys race, while teammate Taylor Brown placed 14th. Justin Roberts finished 20th for Bickleton, while teammate Joshua Cummings finished 30th.
Lady Pirate Jessica Cummings finished in 17th place in the girls race.
Bickleton Coach Darrell Lang could not be reached for comment as of press time.