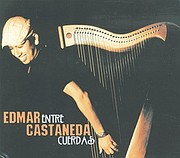 At the beginning and end and everything in between I struggled with Edmar Castaned's "Entre Cuerdas," released this past summer.
The title, translated to between strings, suggests the CD is meant to highlight the harpist, bandleader and composer's talents on his instrument.
I found the first song, Sabroson, and many of the other tracks highlights his ability to pluck away at the strings. Talent, perhaps, but I didn't feel it to be outstanding.
The opening track seemed broken and discordant until the trombone, played by Marshall Gilkes, enters the mix. Some semblance of continuity was delivered by Gilkes, but the harp seemed to detract from the quality of the music.
The harp's part was that of plucking in uneven, disjointed chords. I expected something smooth and glorious from the instrument.
There is a Latin flare to each piece on this CD, but none of it made me want to get up and dance the Tango or Samba.
The title track, Entre Cuerdas, did deliver more of the harp I had expected to hear from Castaneda.
His finger movement is rapid-fire and he strums the strings with a great passion, but it isn't something I would consider harmonic and pleasant.
The trombone climbs the scales numerous times in the track, which seems juvenile for professional musicians.
So, I focused more on Castaneda's instrument, trying to find some semblance of enjoyment through the track.
I could envision the track being played in a retail outlet selling bath amenities, but that is about as positive as I can be regarding the CD.
Throughout the rest of the compilation, I found myself wanting to throw the CD into a shredder as I felt my nerves being shredded.
It sounded like a lot of noise being cast upon me and I just couldn't get Castaneda's vibe as hard as I tried.
I was more annoyed than anything. Nothing about the music made me want to jibe or sit back and relax to the music.
On track seven, Canto, featuring vocalist Andrea Tierra, I could tell the singer led the song with a story. Once the vocalist began to sing, I felt either she was singing angrily or very passionately. Either way, it wasn't an enjoyable experience.
When the last track, Afro Seis, ended, I filed the CD into the back recesses of a cluttered closet.