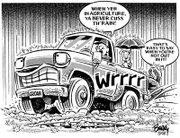 This past week I found myself chilled to the bone as winter weather, not fall weather, settled in around the Yakima Valley. It got me to thinking about relationships that are much like the weather.
I think I ask myself the same question each year as the temperatures seem to take a sudden dip from the warmth of late summer to the nippy 50s.
I wonder what happened to fall, when the temperatures have me bundled up like it is winter.
Researching average temperatures for this time of year, the average drop is about 20 degrees in one month. I grew up in a climate where temperatures steadily declined, and the Lower Valley weather has always surprised me.
I have lived here nearly 12 years and still haven't gotten used to the fact that within a couple minutes drive the weather can change from foggy to sunny or calm to windy.
The Yakima Valley weather, ironically, can be used as a metaphor for human moods and personalities.
There are times we encounter people who are warm and friendly one moment and a few minutes later they are cold and aloof.
How do we deal with these personalities? We can't put on a coat to ward off the chill...not literally anyhow.
But, we can put a coat on how we react to the personality change. We can warm ourselves by remembering the person we are dealing with is not always an iceberg. That person has feelings, too.
We can warm ourselves and perhaps melt the other person with a smile. Sometimes, we just have to "grin and bear it."
Trying to get to the bottom of what caused a sudden personality change can sometimes be a challenge. It is a challenge we aren't always comfortable taking on. But, open communication in a non-aggressive manner can quell the proverbial storm.
And, understanding the other individual can lead to many summers in the relationship. There are going to be those whom we will never understand...much like I don't understand what happens to fall in the Yakima Valley.
More like this story