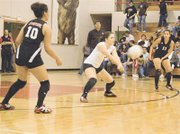 The Sunnyside High School volleyball team (1-11) absorbed another loss on the season last night, Thursday, losing 25-16, 25-19, 25-6 to the visiting Eastmont Wildcats.
The Lady Grizzlies' best effort came in the game two when Sunnyside actually competed in the game to nearly the end. In game three the Wildcats jumped out to an early lead and then cruised for the win.
Lani Ramos has six kills for the Grizzlies. Teammate Jessie Robert added five kills and Jill Spini had three blocks. Hannah Marro added four blocks to Sunnyside's stats and Ayla Schmick contributed two aces. Melissa Amaro finished with 17 assists and Kiana Ramos added 13 digs and 19 assists.
Sunnyside will host the Walla Walla Blue Devils next Tuesday, Oct. 20, for a 7 p.m. match.