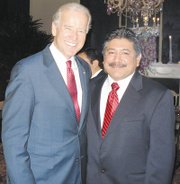 Sunnyside Mayor Pablo Garcia had the distinct honor of being invited to the home of Vice President Joe Biden in honor of Hispanic Heritage Month on Oct. 1.
Garcia admits he was at first a little wary after receiving the invitation, as it asked for his full name, social security number and date of birth. "Actually, when I received it, I was like, 'Do I really believe I received this invitation?'."
He sent back a response admitting he wasn't certain about the invitation.
That's when he found out it was the real deal. "My first inclination was, 'Wow. I have to go'," he said.
Once he got to the home of the vice president, he was surprised to see how small the crowd was.
"I was expecting it to be a lot bigger than what it was," he said, noting there were only about 75 people present, including staff.
The crowd was also wondering how they got invited, and all they could figure out is that staff did some research.
Many attendees were from Texas, some were from California. "Other than that, I was unaware of anyone that came from Washington."
Garcia was close-by for work in Lynchberg, Virginia, so he traveled to Washington D.C. Making it to the event on time was interesting, he said. The event began at 6 p.m. and he took a taxi. "That's prime rush hour for Washington D.C. I found out," he said.
Once there, a social hour commenced, including mingling with Biden and his wife, then the Vice President took to the steps leading to the upstairs of his home and addressed the attendees.
He said Biden spoke about similarities between Irish Catholics and Hispanics and noted he advocated Hispanic concerns and issues, though Garcia said he did keep it light.
"He's actually very funny, always self deprecating," said Garcia.
The Sunnyside Mayor presented Biden with a commemorative city pin and in return, the Vice President gave him a commemorative coin.
The initial invitation said that invitees were not allowed to bring guests, but Garcia said somewhere along the way, that must have changed because Garcia made note of two mayors that brought their children. One mayor from Texas brought her middle school-age son. "He was just in awe," Garcia said of the boy.
Garcia noted that the city of Sunnyside did not pay for any portion of the trip.
Of the Vice President, Garcia summed up his experience by saying, "He's a very personable fellow, he made you feel right at home, very likable."