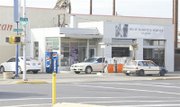 The former Johnny's Service building at Seventh Street and East Edison in downtown Sunnyside has a new name, as Raul Maciel has re-opened the business and named it RM Automotive.
Maciel, who works at the Wal-Mart Distribution Center on the weekends, said, "This is originally what I went to school for. I went to the YVCC two-year program and became certified in 2004."
Maciel said he'd been looking for a little shop since last year. "Then this one came along and I scooped it up. It's in a good location."
Maciel opened up the shop late last month. Open Tuesdays through Fridays, Maciel said, "It has its on and off days. One day it can be slow then boom, three or four people show up at once. It's like a switch went off."
He did say many of the previous owners' customers have begun entrusting their auto care to RM Automotive.
"Word of mouth is spreading," he said.
Maciel is leasing the building. If things go smoothly, he'll consider gas sales in the future. He's also mulling getting a part-time worker for Saturdays and Mondays.
Maciel specializes in diagnosing electrical problems in engines, but also runs the gamut from providing oil changes and winterizing cars to complete engine rebuilds.
Maciel has hung a new sign, but the old Johnny's Service sign is still up, too.
"Some people say to just leave it, it's a relic," Maciel said with a smile.
Maciel lives in Grandview with his wife Virginia and daughters Miriam, 3, and Kaylee, 1.
The shop is open from 9 a.m. to 5:30 p.m.