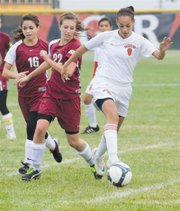 The Sunnyside Lady Grizzlies hosted Moses Lake for a CBBN soccer match this past Saturday, losing a tightly contested game 1-0.
The weather, according to Sunnyside Coach Jon Soule, was perfect soccer conditions. Not too hot and not too cold. The Grizzlies took advantage of the conditions and played what Soule said was an awesome game.
"We played very well," he said. "Our offense was able to play better in the mid-field. They were able to control the ball and be more aggressive."
One mistake by the Lady Grizzlies was the difference in the game. It came in the 28th minute when a Moses Lake player sent a crossing pass from the corner. Soule said his team was so focused on the pass that his players forgot about Colby Hepper, who was playing in the back position. The unguarded Hepper was able to get a foot on the ball and slip it past keeper Perla Ponce.
That goal was the difference. Sunnyside didn't necessarily shut down the Moses Lake offense after that but the Grizzlies managed to stop every shot the Chiefs took.
Ponce recorded 13 saves on the day for the Grizzlies.
"She was real aggressive going after the balls," Soule said of Ponce's play. "This was her best game of the season. A lot of those saves were tough ones."
Soule said with his defenders finding their footing and the mid-field players playing better, the team needs to work on the play of the forwards to get a complete game from the team.
"A lot of opportunities were left out there," he said.
Sunnyside (1-10, 3-10) will travel to East Wenatchee to face Eastmont, on Tuesday, Oct. 20, for a 4 p.m. match.