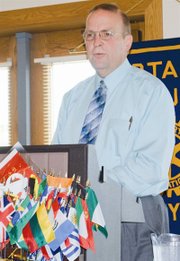 The law and justice tax, otherwise known as the 3/10 of one percent tax, has benefited law enforcement offices throughout Yakima County.
That's according to Sunnyside Police Chief Ed Radder, the guest speaker at Monday's Sunnyside Noon Rotary Club meeting.
He said he recently asked the Yakima County Prosecutor to put a number on the benefit of the tax. James Hagarty told Radder the funds provided the prosecutor's office are equivalent to 11 attorneys.
"The referendum was passed three years ago and it benefits Yakima County criminal justice, the prosecutor's office, law enforcement and detention facilities," said Radder.
The current law and justice tax sunsets in 2011, but the referendum is on the general election ballot for voter approval this year because officials want to provide time for budget planning, he said.
The proposed tax would be the same, Radder said, but an annual report from the various Yakima County agencies receiving funding would be required.
"Reports hold agencies accountable," explained Radder.
In Sunnyside the law and justice tax revenue pays for up to four police officers and assigned counsel for those taken into custody.
"Eighteen deputies are paid for at the Yakima County Sheriff's Office," Radder said of the voter-approved funding.
He said the revenues generated account for approximately $280,000 in funding to Sunnyside.