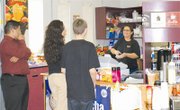 GRANDVIEW - At long last, Grandview's YVCC campus has an espresso and deli, thanks to Marcella Garza and her business Juwanna Java.
The name may sound familiar. Garza used to operate a mobile espresso stand from her vehicle, serving the Mabton School District and Outlook.
When the opportunity arose to set up shop at YVCC, Garza jumped at the chance. She'd heard they were looking for someone to come in and operate a stand.
"They wanted to have something for the students so they didn't have to leave campus," Garza said. "I applied for it and got the contract."
She opened Juwanna Java at the college on Sept. 23, specially made cabinetry and all.
Going from mobile to stationary has allowed her to add to the menu. She not only serves espresso and smoothies, but also soups, sandwiches and salads. Adding soup to the menu has to do with the weather, she said. "It's so cold it's the perfect time of year for soup." She even has oatmeal to go. And, of course, the ever popular polish sausage dog. "The polish dogs are really famous with the students."
Staff and faculty are happy too, said YVCC Grandview Campus Dean Bryce Humpherys. "We're thrilled to have them on campus," Humpherys said. "The students, faculty and staff have enjoyed their food and we're glad to have food here." Humpherys said his hope is that the public will come "check it out," too.