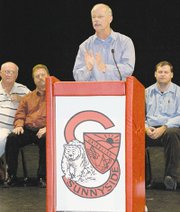 Last night, all but one candidate on Sunnyside's general election ballot was available at a forum hosted by the Sunnyside Kiwanis Club.
Each of the candidates was provided five minutes to tell voters why they are running for office and to address issues they feel are important. After, those attending the event were provided time to ask questions of the candidates.
School board candidate Michelle Emery-Perry was the first candidate to speak to the voters. She said she wants to provide a fresh new perspective to the school board.
"I am open-minded and believe in listening to parents, students and staff," she told the audience, stating individuals need to be respected, but a safe learning environment would best be achieved through a teamwork effort.
Emery-Perry also said she feels it is important to help students in the school district succeed and pass state standardized testing.
"I feel we need more parent involvement...we need to make parent events more conducive," she said.
Her opponent, Robert Lemos, was the only candidate not at the forum.
Jason Raines is running against incumbent Theresa Hancock for the city council position 1 seat. He addressed the voters, stating he is concerned for the safety of the community.
He vowed to reinstate the police officer positions that were cut from the 2009 budget, fully staffing the Sunnyside Police Department.
"I am supportive of a K-9 unit in Sunnyside to stop drugs," said Raines.
He also feels the council should receive monthly finance reports from departments within the city government. Those reports, he said, should be provided in an open public meeting for the purpose of transparency.
Hancock later spoke, reminding the voters she and Councilwoman Carol Stone were the two council members currently seated that did not agree with cuts suggested by former City Manager Eric Swansen.
"We held our ground," she told those gathered at the forum.
Explaining Swansen wanted the council to make decisions regarding position cuts, tax increases and salary increases for city staff, she said she felt he did a disservice to the community when he was unwilling to listen to the taxpayers.
"I expect an open, transparent government with quality services delivered with honesty and integrity," said Hancock.
She became involved in politics because the city had been considering privatizing many of its services.
Hancock said she wants to continue to create a positive environment for Sunnyside residents.
"I will continue to take the city to a new level of service," she said.
When Stone spoke, she told the audience, "I think this is the best place to live."
She is a life-long resident of the community and is challenged by Don Vlieger for the City Council position 3 post.
Stone, known for her volunteer work, highlighted all the community organizations she is involved with before telling the voters why the city council had to raise sewer rates.
"We had to raise rates because the Department of Ecology said our city's output was above their limit," said Stone.
She told the voters it wasn't a decision she and Councilwoman Hancock took lightly, but it was a necessary step to comply with the Department of Ecology.
"I understand living on a tight budget...I have worked minimum and low wage jobs," shared Stone.
She vowed to fight for the citizens of Sunnyside regardless of the election outcome.
Vlieger, owner of a bed and breakfast inn in Sunnyside with past experience as a sheriff's deputy in California, told those at the forum he will make it a priority to meet the public safety needs of the community, if elected to serve on council.
He, just like the other city council candidates, said, "Public safety needs to be a priority."
Vlieger said he wants to fully staff the police department and add "power shifts" to the schedule. Explaining the term, he said a power shift is a shorter working shift during high priority hours.
Like Raines, he feels a K-9 unit would be a benefit to the police department and said, "We need to make Sunnyside the least popular place for gangs and crime."
Vlieger said he also wants to work with the person hired as city manager. "I don't believe in working around the city manager," he explained, stating he feels many of the current council members did not have a cooperative mindset when dealing with the former city manager.
He also wants put in place a policy to better watch the city budget.
"We need to set priorities, set policy and watch public money," said Vlieger.
The Sunnyside City Council position 2 seat held by Jesse Hernandez Jr. is being challenged by Mike Farmer.
Farmer is a former council member and said he wants to open council meetings to public comments.
Like the other candidates, he wants to reinstate positions of law enforcement, code enforcement and parks and recreation.
He said activities for youth must be provided to assist in the efforts to combat crime in Sunnyside.
"I want to know what my opponent has done to differentiate himself from the rest of the current council," said Farmer.
Hernandez said he feels it is important to share views and the city is not unique in that it faces challenges.
"I choose to prosper," he said, stating he has a vision of Sunnyside as the "marquee of Central Washington."
Hernandez said to accomplish this, city government must work together and be held accountable.
"I propose we step up and choose to make a difference...the police can't do it alone," he said, explaining community members volunteering in the lives of the youth can help overcome some of the issues related to gangs.
"Our youth need to know someone cares," Hernandez said.
He also stated he believes block watches should receive better support from the city leaders.
To support economic growth, Hernandez proposed streamlining the permit process.
"We need to decide what we want our community to look like and support that effort," he said.
Nick Paulakis is running for city council unopposed. He stood before those at the forum and shared his experience and concern for the youth of the community.
He said he feels programs, such as parks and recreation are beneficial to the youth of Sunnyside. He also credited community organizations and volunteers who have been working to provide opportunities like the Lucky 7 Bike Shop for the youngsters of Sunnyside.
Paulakis said he would like to bring back the beautification program, code enforcement and the community center.
"I want to open up our parks and take a look at the pool," he shared, acknowledging the city also has other areas of need, such as at the fire department.
"I want to hear your voice and make sure you realize you will be heard," Paulakis said.
The two candidates for the Port of Sunnyside commissioner seat, St. Clair Woodworth and challenger Jim Grubenhoff, believe in economic development efforts. The pair are both focused on recruiting new businesses to the community and helping expand current businesses.
Woodworth has been a commissioner for 19 years and highlighted some of the accomplishments of the commission during his tenure, including the Golob Landing project and the sequential batch reactor.
"We strive to enhance the local economy," he said.
Grubenhoff, a newcomer to the political arena, said he seeks to be involved in the efforts of promoting Sunnyside.
He said he is impressed with the work of the Port of Sunnyside and hopes his business experience can enhance those efforts.
"I would like to work as a commissioner to further the success of Sunnyside," he shared.