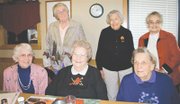 Sunnyside's Pearl Hughes Guild was started in 1946 and named in honor of the wife of the late Dr. Hughes, longtime physician in the community.
The purpose of the organization, according to those currently involved in the group, is to help youngsters being treated at Seattle's Children's Hospital.
The group, which is in need of more members, has been involved in numerous community service efforts to raise funds for the children at the hospital, according to President Betty George.
The projects include a recycling effort, as well as an annual calendar sale.
"Everything we raise goes toward making sure the children receive comfort and uncompensated care," said George.
She, and those who are members of the Pearl Hughes Guild, are currently working to raise funds to send to the hospital for the purchase of toys for Christmas.
"They know better what the needs of the children are, so we send the money to the hospital," explained Joyce Carter, treasurer for the group.
What this group of women want to ensure is that the children, who are patients, know that these small gifts are meant to help them recover.
Many of the youngsters treated at the hospital may not be able to be home for long periods of time, and the efforts of the Pearl Hughes Guild are meant to ease their cares in whatever way they can.
Over the past six decades the Pearl Hughes Guild grew to include a Grandview chapter. But, said the ladies from Sunnyside, there are approximately 20 members in the founding chapter, contributing whatever they can to help the cause.
Some women participate through a local bridge club and others attend the monthly meeting held the third Friday each month at Sunnyside's Sunny Spot restaurant, with the exception of summer months and December.
The group's annual calendar is currently available for purchase at the cost of $4.50 each at Sunnyside's Scissor City and Neva's Beauty Salon.
George said those seeking to join the guild or to assist the group in its efforts can contact her at 837-3498.