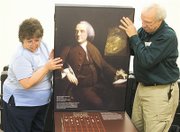 Statesman, printer, inventor and a founding father... Benjamin Franklin was all of these and more.
For the next six weeks he'll also be a Sunnysider as a prestigious national touring exhibit focusing on Ben Franklin will be at the Sunnyside Library starting this Saturday, Oct. 24.
The Sunnyside Library is located at 621 Grant Ave.
Called "Benjamin Franklin, In Search of a Better World," the free exhibit celebrates the life and achievements of Franklin, born in 1706.
Besides serving his country as a skillful diplomat and negotiator, Benjamin Franklin was a scientist, inventor, entrepreneur, humorist and philanthropist whose wisdom and wit serve as the inspiration for the exhibit.
"We are very pleased to have been chosen as a site for this exhibit, one of only 20 libraries on the original selection list," said Kim Hixson, Interim Director, Yakima Valley Libraries. "Franklin was a remarkable person and the exhibit will have many interesting topics for people of all ages."
It all starts this Saturday from 2 to 4 p.m. with colonial-era refreshments and entertainment, plus an opportunity to have your picture taken with Ben Franklin.
One of only 20 cities in the entire U.S. to host the exhibit, the Sunnyside display will feature larger than life panels on loan from the Smithsonian in Washington D.C. The series of panels will depict Franklin's life and achievements.
Activities in conjunction with the exhibit include university lectures about Ben Franklin, movies and self-guided group tours of the exhibit.
On Dec. 2, the Daily Sun News office will share in the Franklin festivities as at 6 p.m. the public is invited to see how a newspaper is put together and watch the special exhibit edition of the paper roll off the presses.
The exhibit closes at 6 p.m. on Dec. 4.
"It's a great opportunity for a small town like Sunnyside," said Marcelina Ortega, an assistant librarian at the Sunnyside Library.
Ortega said former Sunnyside librarian Amy Ravenholt submitted an application for the exhibit a couple of years ago.
"She thought it would be a good thing," Ortega said. "The exposure to this kind of material from the Smithsonian is something that an average person in the valley does not get to see."
Ortega said the Smithsonian isn't providing museum display items from colonial times, but that local residents and the Sunnyside Museum will provide colonial-era artifacts.
The touring exhibit is sponsored by the American Library Association's public programs, Philadelphia, Pa. based Benjamin Franklin Tercentenary and the National Endowment for the Humanities.
For more information, to register for an activity or to sign-up for a self-guided group tour, contact the Sunnyside Library at 837-3234.
Library and exhibit hours are Monday through Thursday 9:30 a.m. to 9 p.m., Friday and Saturday 9:30 a.m. to 6 p.m. and Sunday 1 to 5 p.m.
Following is a detailed schedule of events for the Ben Franklin exhibit. Unless otherwise noted, all events are at the Sunnyside Library.
Oct. 24 - Opening day. Entertainment, refreshments and pictures with Ben Franklin from 2 to 4 p.m.
Oct. 27 - Sunnyside Fire Department demonstration at 4 p.m.
Oct. 31 - Movie for children and families at 2 p.m.
Nov. 1 - Lecture: B. Franklin and Political Virtue, by CWU Professor Daniel Herman, 2 to 3 p.m.
Nov. 5 - Discussion: Investing in Hard Times, by Common Cents Club, 7 p.m.
Nov. 7 - Mad Science Program, Crazy Chemworks, 2 to 3 p.m. Registration required.
Nov. 14 - Mad Science Program, Current Events (electricity), 2- 3 p.m. Registration required.
Nov. 15 - Lecture: Franklin, The Diplomat, by YVCC Professor Kenneth Zontek, 2 to 3 p.m.
Nov. 17 - Crafts and Fun: Craft program for children at 4 p.m.
Nov. 18 - Senior story time at 10:30 a.m.
Nov. 21 - Movie: Saturday movie for children and families at 2 p.m.
Nov. 22 - Movie: Action-packed feature film starring Nicholas Cage, 2 p.m.
Dec. 2 - Printing Demonstration. Learn how a newspaper is put together and watch the special Ben Franklin exhibit edition of the Daily Sun News roll off the presses, 6 p.m. at the Daily Sun News office, 600 S. Sixth Street.
Dec. 4 - Exhibit closes at 6 p.m.