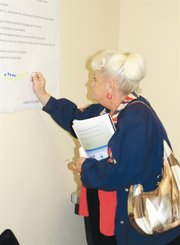 GRANGER - Enforcement.
If you were forced to use only one word to describe what people of the Yakima Valley want when it comes to water well contamination, enforcement would sum it up. Concerns particularly swirl around nitrate and bacteria pollution.
Department of Ecology, Department of Health, Environmental Protection Agency officials and others heading up a panel Wednesday night in Granger at the radio station heard testimony from dozens of Yakima Valley residents.
All of this followed presentations by the panel detailing a Lower Yakima Valley groundwater quality draft report, a lengthy report created as a multi-agency effort.
A committee had been formed that included the many agencies, as well as representatives of the communities.
The three-plus hour meeting attended by Yakima County Commissioner Rand Elliot, Sen. Jim Honeyford and Rep. Bruce Chandler included verbal reports from officials who worked on the reports.
The bottom line, they said, is of the list of options borne out of many meetings and included in the report, officials want to know from residents how to proceed and which option to choose.
There are six options for local governments and the community to form coordinating bodies that focus the authorities and responsibilities of local, state and federal government. In addition, there are four pages of short term to long term actions that can be taken.
The six options include declaring a groundwater management plan, a special protection area, an aquifer protection area, a sole source aquifer protection program, setting targets for total maximum daily loads from industries or developing a watershed management plan.
Depending on which plan residents want, either the county or Ecology could oversee the program.
Financial resources are of tremendous concern. But panel representatives believe that moving forward with one of the six options could possibly be a way to create funding.
For now, Tom Tebb with the Department of Ecology said, "County, state and federal governments are struggling with financial resources right now."
Chan Pongkhamsing of the EPA told the crowd that he created a list of entities to contact to express concerns or ask questions about drinking water sources. "We heard clearly there was frustration and confusion about not knowing who to call about private wells." He said he'd update the list quarterly, or monthly if necessary.
Ryan Anderson of the Department of Ecology said that not any one agency has the resources to address the problem and the draft report identifies options that could be used to coordinate responses, like a watershed management plan.
This did little to appease the audience.
Harrah's Jan Whitefoot has represented the public during the meetings and was angry about not being invited to serve on the panel. Infuriated, Whitefoot asked and was granted to take the microphone.
"There is no trust in the Yakima Valley...for over 30 years there's been a bad track record. Politicians turn a deaf ear. The eyes of the county are upon us and we are not going to stop or be quiet." She added later, "We are at the tipping point of no return of having no water here in the Yakima Valley."
Whitefoot's impassioned statements garnered the first round of applause for the night from the crowd.
Many last night blamed the dairy industry for well contamination, which apparently wasn't officially represented at Wednesday's meeting. According to Jerry Buendel of the Department of Agriculture, dairy industry reps were invited to attend prior meetings and attended only a couple.
During a break in the lengthy meeting, residents were asked to place green dots on recommendations that had been hung on the wall in order of importance to them. A resident wrote "enforcement" in red marker, which garnered the most green dots.
Whitefoot asked why, if every agency knew about the problem of contaminated wells in the Yakima Valley, did no one apply for stimulus funding.
There was no answer to her question. She also expressed frustration at what she feels is not enough involvement from the Yakima County Department of Health.
But Rep. Bruce Chandler disagrees with going after political entities with both barrels. He feels the focus is misplaced and should shift to digging deeper wells to find better water. He said most contamination is a result of shallow wells.
"Focusing on a political attack, at the end of the day, is not going to get anybody clean water," he said this morning, Thursday.
Chandler said, "I think we all want to work with county and federal agencies to make sure we can correct (contaminated) wells. There is enough data, enough knowledge, we pretty much know where the wells are. We need to start with sampling them, then prioritizing on (fixing) the worst ones first."
One thing that all could agree upon last night is that inaction would be disastrous.
Chandler said, "I don't want to find us years from now and nothing's changed about the improvement of the water."
Elliot said the county is committed. "We'll be a part of the process and do all that we can to get us where we need to be."
A KDNA radio station rep invited the panel to go on the airwaves and reach out to the Hispanic community to alert and inform them of the report.