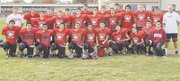 "Good, we have enough to run defense and offense," Grizzly freshman football assistant Sean Sleater said after a quick head count during a recent practice.
They may not be huge in numbers, but they're making up for it in heart, and playing plenty of both offense and defense along the way in an undefeated 7-0 season.
"These are the most intelligent kids I've coached," says head SHS frosh coach Darren Mezger.
It also helps that they're just flat out good athletes.
"They're very athletic," says Mezger. "The line takes over late in games."
Adds Sleater, "We're the fastest team in the league."
Eduardo Salmeron leads the young Grizzly attack at quarterback and also plays safety on defense.
Then there's all-everything Joseph Contreras, who leads the Grizzlies in both touchdown catches and interceptions.
SHS running back Ramon Hernandez keeps defenses honest and plays some mean defense to boot at middle linebacker.
"He's our workhorse," said Sleater. "He's a hard hitter."
Sleater coaches the SHS frosh defense and praised Grizzly defenders as "quick on the edge and tough in the middle."
The praise is well-earned as the Grizzly freshman team surrenders a league-low 13 points per game.
Sunnyside freshmen will get their strongest test of the season tonight, Thursday, when it travels to play Moses Lake, 6-1. "It's for the league championship at the freshman level," says Sleater.
It may not be the last title these young Grizzlies vie for.
"They believe they can beat every team," said Mezger. "They have the potential to be league champions in the next three years."