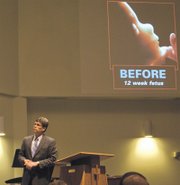 Residents of the Lower Valley enjoyed a wonderful meal and insightful words of courage provided by Scott Klusendorf at last night's Life Options fundraising banquet.
Also speaking to those gathered was the organization's CEO, Jan McDonald.
She shared with those gathered how their contributions have helped Life Options grow its programs over the past year.
"We wanted to expand to Sunnyside, provide fatherhood classes and provide more for our clients, but the economy tanked," said McDonald, stating in spite of the economy "...God has been good."
Her organization was able to move forward with its plans through the generosity of the community and grant funding.
"We prayed Planned Parenthood would move out of its office across from the (Sunnyside) high school and it did," McDonald shared, stating Life Options now occupies the space.
Both middle schools in Sunnyside, too, have the benefit of her organization's support. There is now a Girls 180 program at both Harrison and Sierra Vista middle schools.
The fatherhood program her organization wanted to implement is now in place, as well. McDonald said those with whom she spoke realized the intrinsic value of such a program and other organizations like Life Options shared the impact such a program would have on the growth of her organization.
"Lives are changed through Life Options," she said.
Following the sharing of several statistics, McDonald introduced Klusendorf, who is the author of The Case For Life.
He is a renowned speaker and president of Life Training Institute in Colorado Springs, Colo.
Klusendorf opened up his presentation, stating, "We're going to talk about arguing."
Explaining, he said there are a number of arguments across the nation that impact those gathered at last night's banquet as well as everyone they come in contact with.
Participating in the arguments, Klusendorf said, can be the challenge.
"Is the truth true?" he challenged, asking those gathered if the belief that moral truth holds up to scrutiny.
Klusendorf told his audience he was going to address the questions of whether the unborn are human, human value and what duty individuals have toward the unborn.
He said Dr. Peter Singer's book, Practical Ethics, is required reading at Princeton and in the book the argument that a newborn child is not human until it is 30 days old is presented.
He said the book basically points out we should be able to kill the newborn anytime we want and our old-fashioned religious views are outdated. "In otherwords, there is no difference between crabgrass and you and I."
Rapper Nick Cannon, he said, was criticized for lyrics in one of his songs, "Can I Live." That song, said Klusendorf, reflects on Cannon's mother's decision to forego an abortion, allowing him to live.
"What made people angry is that he claimed to be right on a moral issue," Klusendorf said, stating we are around people who adopt world views every day.
"They are just more polite about it," he shared.
Klusendorf said those who "don't like" abortion, but argue it is not their place to impose their beliefs on others are effectively stating it is okay to legalize killing babies.
"If a client comes to Life Options believing it is up to her to decide the value of her baby, her child is at risk," he said, stating the love and support provided at Life Options gives the client the opportunity to see the baby is valuable.
To break through the question, "What is the unborn," Klusendorf said individuals need to be clear on what makes one valuable as a human being.
He asked those gathered at the banquet if a two-year-old is any less valuable than Shaquille O'Neal.
In comparing the difference between and embryo and another person, one might argue the size of the individual makes them valuable. Another argument might be the level of development between the individual and an embryo, but Klusendorf challenged that, stating a teen and an adult are developmentally different. Degree of dependency is another popular argument, he said, asking if a nursing baby is any less valuable than anyone else.
He talked about Nadine Strossen, formerly of the ACLU, who said women have the right to reproductive freedom according to their own religious beliefs. She said that freedom is also rightfully provided based on the woman's goals in life, and she said women have the right to tax-funded birth control programs.
To that, Klusendorf said, "Men and women, I agree completely with everything Nadine just said. She's right that abortion is a personal, private matter that should not be restricted in any way. She's right that we shouldn't interfere with personal choices. She's right that pro-lifers should stay out of this decision. Yes, I agree completely IF. IF What? If the unborn are not human beings. And if Nadine can demonstrate that the unborn are not members of the human family, I will concede this exchange and so should everyone else who is pro-life."
He said when another woman told him he did not have a right to argue against abortion because he is a man, Klusendorf responded, "How do you know I am a man?"
The point, he said, is for individuals to examine and define whether or not the unborn are human and if they have value, just as one would define gender.
As to one's duty to the unborn, Klusendorf said individuals are to love their unborn neighbor once they have determined the unborn are human.