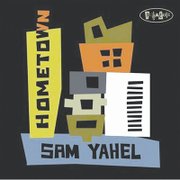 When I first stuck Sam Yahel's "Hometown" CD in the player, I cringed and thought, "Oh great. Another CD that's meant for background music as people file into a funeral home." Imagine my delight when Yahel shifted gears and the music pepped up.
The first track is called "Jealous Guy" and, like I said, has a rough beginning that reminds me of the song "Go Rest High On That Mountain" by Vince Gill.
But maybe that's what Yahel's demonstrating in that first track, a grieving man riddled with jealousy. As I listen to the song, it's as though he's playing his emotions on the piano.
Track two, "Think of One," is downright excellent dance jazz. It's zippy and flirtatious.
If I were sitting in a dance hall and Yahel's "Blue Pepper" came on, it'd get me right out of my seat.
I have no desire to take on ballroom dancing, but Yahel's CD is meant for it and I like that. It's also an ideal gift for a jazz lover.
The CD features Yahel on the piano, Matt Penman on bass and Jochen Ruckert on drums.
Perhaps Yahel's publicist sums it up best when he describes the three as having a "solid harmonic foundation."
Check out snippets of this CD at www.samyahel.com.
More like this story