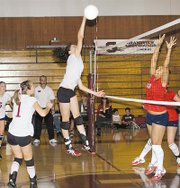 GRANDVIEW - The Grandview Greyhounds' volleyball team clinched the CWAC South last night, Thursday, with a 25-10, 25-17, 26-24 win against the Prosser Mustangs.
The win gives Grandview a 7-0 divisional record and a record of 11-1 in the CWAC conference. The Lady 'Hounds are 13-2 overall and will finish the regular season next Thursday, Oct. 29, when they travel to Wapato to take on the Wolves in a 7 p.m. match.
Thursday's match against the Mustangs went the way the team thought it would go, according to Grandview Coach John LaFever.
"We've shown some improvement," he said. "We're controlling the passing better."
Grandview easily won the first game but LaFever said the Mustangs are an improved team from their previous meeting on Sept. 17. Because of this the Mustangs battled the Lady 'Hounds a bit tougher in the second game before losing 25-17.
In the third game Prosser had game-point at 24-17 but couldn't hold off a late Grandview charge. The Greyhounds reeled off seven points to tie the game at 24. Grandview's Kaitee Eucker got the game winning point with an ace.
Adriana Ramos led the Greyhounds with 11 kills and four blocks. She was followed by Haley Smasne, who had six kills, four blocks, 11 service points and nine digs in the match.
Eucker finished with three kills and nine digs. Payton Parrish had eight kills, 17 assists, seven service points, three aces and 10 digs. Jessica Hall contributed three kills and three digs, and Brandi Atkinson finished with 15 assists, seven service points and eight digs.
Gabby Sauve gave the Greyhounds 11 service points and 20 digs. Mikeala Espinoza added eight kills. Crystal Navarro finished the match with eight digs and Marlee Andrews had four service points and two digs.
LaFever said his team will continue to work on trying to improve the team's play before next week's match with Wapato.