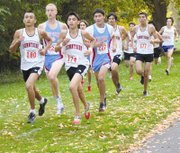 RICHLAND - Sophomore Juan Reynoso led the Sunnyside High School boys cross country team at the 3A District cross country meet held yesterday, Thursday.
Reynoso claimed sixth place honors on the 5,000-meter course in Richland, recording a time of 17:09.
The second runner crossing the finish line for the Sunnyside varsity was senior Jordan Esqueda, who clocked a 10th place time of 17:32.
Rounding out the top five Sunnyside finishers were Jesus Mendoza (12th, 17:50), Patrick Watts (14th, 17:53) and Alejandro Campos (15th, 17:53).
Also competing in the varsity boys meet, but not figuring in Sunnyside's team scoring, were Andres Cantu (16th, 17:58) and Nathan Gomez (17th, 18:05).
Zach Martin of Hanford recorded the fastest boys varsity time in 16:33.
As a team, the Sunnyside boys finished in third place among the three 3A teams with 57 points. Hanford won in scoring with 23 points, followed by West Valley with 48 points.
In girls varsity competition, the Lady Grizzlies fielded three competitors. Jocelyn Yanez claimed fifth place honors for Sunnyside in 20:23.
Yanez was followed by her teammates Sarasa Partida (22:13) and Marlene Manzo (25:01) in 12th and 29th place, respectively.
Erin Hegarty of Hanford captured first place honors in the varsity girls race, posting a time of 18:19.
Sunnyside was two runners short of fielding a complete team score. West Valley recorded the best varsity girls team score with 21 points, followed by Hanford at 35 points.
The Sunnyside boys also competed in a junior varsity District meet. Jaime Garcia led the Grizzly JV squad by taking second place honors in a time of 18:06.
Also included in the top five JV runners for Sunnyside were Kennedy Sarmiento (third, 18:10), Rigo Valdez (ninth, 18:46), Ruben Prado (10th, 18:52) and Danny Perales (21st, 19:24).
Shane Shelby of Hanford bested the boys JV field with a first place time of 17:48.
The Sunnyside cross country team now heads to the Regional meet at Spokane next Saturday, Oct. 31.