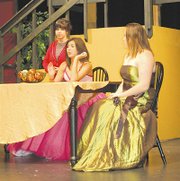 We all know the magical tale of Cinderella, an abused step-daughter blessed by a fairy Godmother who helps send her off to the ball to meet her Prince Charming.
Sunnyside High School students are gearing up to present Cinderella, but with a very creative twist: it will be a musical.
"I chose it because it has six strong female roles and I have a strong group of senior girls," said the play's director, Corey Murphey. "It also appeals to all audiences because everyone knows the story and many have childhood memories of the story or the 1965 television version with Leslie Ann Warren."
Murphey also happens to enjoy working with musicals and plays that have an element of fantasy. "This allows for great creativity in scenic design and costuming."
Crystal Rivera plays the lead role, Cinderella. Giovanni Rodriguez plays her prince and Jazmine Salmeron plays her stepmother. Hailey Moore and Lainey Rodriguez play her mean sisters and Abby Gomez plays her Godmother. The king and queen are played by Kurt Furan and Jennifer Crane. Rene Furan has multiple roles, including the herald, steward, a ball guest and minister. Marielle Abbott and Leann Lopez will act as the transformation point dancers.
Luisa Calderon, Meagen Meyers, Abby Ramos, Kayla Rodriguez, Danie Jo Kranz, Llafi Parramore, Reyna Rivera, Tara Van Corbach, Gerardo Alquicira, Irak Brambila, Joshua Magana, Manny Rivera, Emmanuel Torres, Robert Aparicio, Jerry Cardenas, Sergio Ramirez and Jonathan Tavira will play townspeople, merchants, royal staff and ball and wedding guests.
Mariah Saenz, Janessa Frank, Annie Lara-Rood, Paytin O'Leary, Mackenzie Murphy, Jose Hernandez, Andrew Diddens and Bryce Murphy play youngsters, pumpkins and mice.
Performances at the Sunnyside High School auditorium are slated for Thursday, Oct. 29, at 7 p.m. and Saturday, Oct. 31, at 1 p.m. Performances are also slated for Nov. 5, 6, and 7 at 7 p.m.
Tickets cost $6 for general admission and $3 for senior citizens and students. A Halloween performance special cost will be $1 for kids 12 and under and general admission will be $3.