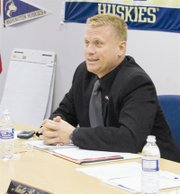 Hired last month as Sunnyside's Promise's first executive director, Mark Baysinger was introduced yesterday, Thursday, during a Sunnyside's Promise luncheon.
Baysinger praised the group's efforts and ability to stay active despite a lack of funding at times.
Looking ahead, he told Sunnyside's Promise members that the group will have to partner with other area agencies in order to meet a new requirement instituted by Gov. Christine Gregoire. The requirement, he added, is a good thing because it requires agencies to work together and be accountable in serving the public.
Baysinger said partnerships will be key for any future hopes of possibly opening the community center or addressing a shortage of soccer fields.
Baysinger, a 1978 SHS grad, previously worked with a youth program administered through Yakima Valley Farmworkers Clinic.
Sunnyside's Promise also has a new office, located at 714 E. Edison, downstairs in the Bell and Bridges office. Baysinger said an open house is in the works, as well as an exterior sign advertising Sunnyside's Promise's new location.
With such a prime downtown location, Lisa Fairbairn of Sunnyside's Promise said the agency is hoping to offer hot chocolate in front of its office during the Lighted Farm Implement Parade in early December.
Sunnyside's Promise board member Larry Mays, a pastor at the Sunnyside Seventh Day Adventist Church, also announced Family Connections Yakima Valley is offering a marriage enrichment weekend Nov. 20-21 in Union Gap.
Former Sunnyside's Promise board member and soon-to-be Sunnyside School District retiree John Hughes was also recognized yesterday for his service to Sunnyside's Promise. Hughes later presented expectations the Sunnyside School District has developed for Sunnyside's Promise related to funding the district has provided.
Among the expectations are that Sunnyside's Promise will offer a total of 40 parent workshops during the school year. In addition, the district expects Sunnyside's Promise to offer mentoring relationships with at-risk middle school students.
The meeting concluded with Baysinger pledging to consider the development of sub-committees within Sunnyside's Promise's membership to address issues that members are concerned about.
Sunnyside's Promise board chair Nate Bridges also noted that the board will work to develop clearer expectations of the agency's membership.