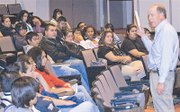 Students have a choice-they can either be a hero or a bystander.
That's what Dave Johnson had to say when it comes to bullying. Johnson was a featured guest speaker Thursday at Sunnyside High School, explaining what bullying is and the difference a student can make if they defend a victim.
Sent on behalf of the school district's insurer, Canfield and Associates, the first words he spoke as soon as his audience sat down were very frank. "Some of you are bullies, some of you are victims and most of you are bystanders," he told the attentive audience.
Johnson explained that state laws define bullying and the latest addition to the legislation is addressing cyber bullying, which is very common these days with kids' access to all things electronic.
He gave the students a working definition of what bullying is, broken down into six parts: there is an intentional desire to do harm, there is a power imbalance (i.e. popularity), a misuse of that power, that bullies enjoy carrying out the action, the victim feels trapped and the bully isn't just mean once-it's repetitive harmful and hurtful acts.
He said bullying can by physical, emotional or indirect. Indirect bullying is gossiping and spreading rumors, or excluding and ignoring.
Johnson emphasized that victims don't forget their bullies.
He also explained teasing, as bullies often use it as an excuse when caught. Johnson said the victim will agree when confronted by authority, simply to avoid a spike in abuse when that authority figure isn't present.
Teasing, he said, is when everyone involved feels respected. Unintentional bad teasing takes place when the intent is not to hurt the victim.
Intentional bad teasing is when someone is put down or silenced.
He advised students to take an honest assessment of their behavior. Where are they at on the excuse barometer? What is the intent of their actions? If there are bad habits, stop them. And listen to advice from the right people.
He said there are different types of bystanders. There are bystanders who co-bully, bystanders who reinforce the bully by laughing, and outsiders, bystanders who simply don't want to get involved.
"There are few defenders," he said. "There aren't many of them, but there are a few."
He then explained how Sunnyside students can be heroes. They can tell the bully to stop or report it. Johnson emphasized in no way should a hero get in a physical altercation with a bully.
Johnson said that he recommends a book that can detail the torment a victim suffers: "Please Stop Laughing at Me" by Jodee Blanco.
In between sessions, Johnson said his presentation was at no cost to the school district, as Canfield and Associates believes in being proactive and doing their best to prevent lawsuits, as bullying can result in litigation.