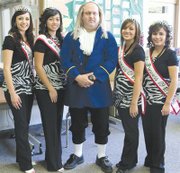 A free exhibit celebrating the life and achievements of Benjamin Franklin opened this past Saturday at the Sunnyside Library.
The kick-off featured both the Miss Sunnyside and Miss Cinco de Mayo courts, Sunnyside City Council members and the man himself, Mr. Franklin.
Sponsored by the Smithsonian Institute in Washington, D.C., the exhibit will be open to the public at the Sunnyside library for six weeks.
The exhibit consists of six panels, each depicting an area in the life of Franklin and his contributions.
"We would like to teach the community about Benjamin Franklin," Sunnyside Library Manager Francisco Garcia-Ortiz said. "We want children to discover him and enjoy the experts that are coming to speak about him."
According to information provided by the Library, Franklin was one of the most remarkable and influential Americans of any generation. He stood out in the company of George Washington, Alexander Hamilton and Thomas Jefferson as a wise and pragmatic leader during America's move towards independence.
Franklin was a diplomat, scientist, philosopher, philanthropist, humorist and entrepreneur who left an astounding array of achievements and writings through which he can be better known.
For the next six weeks experts will come to the library where Franklin's passions will be explored and explained. The public will learn all about the different roles he played.
The next gathering will be Tuesday, Oct. 27, at 4 p.m., with a demonstration by the Sunnyside Fire Department. Franklin was instrumental in bringing a fire department to the city of Philadelphia in 1736.
"We're trying to capture every sector of the community," Garcia-Ortiz added.