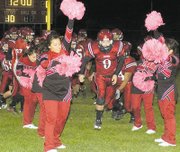 GRANDVIEW - In a game not nearly as close as the final score indicates, the Grandview Greyhound football team dispatched visiting Quincy last Friday, 22-12.
Grandview held the Jackrabbits to just 129 yards in total offense, with about half of those coming on Quincy's opening drive.
The Jackrabbits took the opening kick-off and pounded out a 13-play, 60-yard drive that consumed eight minutes of the first quarter. Quincy had nothing to show for it as it turned the ball over on downs after reaching the Grandview 20-yard line.
Grandview Coach Jeremy Scroggins said Quincy's opening drive was a learning experience for his defense.
"Against a team with the veer or wing T it's really hard to simulate that speed in practice," he said of his defense's adjustment to the Quincy scheme. "It (the opening drive) helped us pick it up for the remainder of the game."
With Grandview freshman quarterback Derek Swearingen making his first varsity start, Scroggins loaded up on the run. Greyhound running back Jacob Massey was happy to oblige, toting the pigskin 35 times for 239 yards and two touchdowns.
"He knew ahead of time we were going to pound the rock," Scroggins said of Massey. "He was pretty excited."
Massey scored the game's first two touchdowns, finding paydirt in the first quarter on a four-yard dash and again in the second stanza when a Jose Lara block busted him loose for a 72-yard scoring run midway through the quarter.
Grandview fans saw some of the freshman QB's potential on the first scoring drive when Swearingen stood in the pocket and delivered a 43-yard strike to Lara that took Grandview down to the Quincy-4 and set up the first touchdown.
For the game, Swearingen was a steady 6-of-11 passing for 105 yards.
"We're excited about the future with that young man," Scroggins said of his freshman quarterback. "I just hope he continues to work out with weights and work on his speed and agility. He can help Grandview football have a bright future."
Swearingen's favorite target Friday night was Lara with four catches for 62 yards. Teammate Ryan Moore grabbed two passes for 30 yards and Massey added to his already impressive resume with one reception for 23 yards.
Grandview was having its way with Quincy, yet the Jackrabbits made it a one score game just before the half by pushing ahead for a touchdown. Quincy, which started most of its first half possessions at or near mid-field, finally took advantage on that first score when their starting position was at the Grandview-35.
Leading just 14-6 starting the second half, Grandview effectively sealed its win with a nine-minute scoring drive that culminated with a 42-yard touchdown scamper by Lara.
After a successful two-point completion, the Greyhounds led 22-6 with only about three minutes left in the third quarter.
While Grandview's defense continued to stuff the Jackrabbit offense, the Greyhounds on offense were happy to milk the clock with the run game, student body rights and lefts to Massey on his career night.
Quincy's second and final score of the game came late in the game on a drive marred by 60 yards in Grandview penalties.
Besides working with his team on the penalty front, Scroggins said a point of emphasis in practice this week will be special teams play.
With a game at Wapato coming up this Friday, Scroggins said his team still needs to improve its play on the line. "We need to be a lot more physical up front," he said. "To be honest, we didn't play as well as we did (a week ago Friday) against East Valley."
With Selah's win over Prosser this past Friday, Scroggins said his team's hopes of making the playoffs are growing faint.
"We're out of the playoffs barring a catastrophic thing," Scroggins said.
Even so, Grandview (4-3, 5-3) is already two wins ahead of last year's 3-7 season.
With playoff hopes dimming, Scroggins said his team still has plenty of goals to work toward with two regular season games remaining.
"We'll try to keep things rolling," he said. "Our focus is more character-based, keeping our grades up and being a lot more team-oriented."