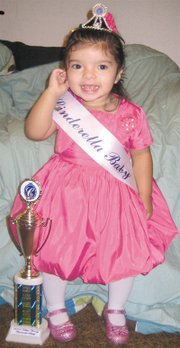 PORT ORCHARD - Sunnyside's Audrina Campos earned the Cinderella Baby crown at a pageant in Port Orchard this past Saturday.
The year and a half old Campos, the daughter of Amy Rubio and Roy Campos, competed against four other tots for the crown.
"She scored the best in her age group," said Rubio.
Campos competed in three categories: interview, casual wear and evening gown.
One might wonder how a judge goes about interviewing a baby. Rubio explained that it's called "playtime." The tots are all put in the same room and the judges interact with them, getting to know their personalities, said Rubio. "They do things like blow bubbles and see how they react, see how they get along with other kids, see whether or not they're shy."
There are different age groups to compete in that range from Cinderella Infant all the way to Cinderella Woman, said Rubio.
Rubio, the former director of the Sunnyside Miss Cinco de Mayo Pageant, said she's always been interested in having her daughter participate in pageants.
Of the Cinderella Pageant, she said, "It's not all glitz like you see on television. It's more casual."
It was a long day for the toddler as there were girls in other age categories competing, but Rubio did say they made it home to Sunnyside by early evening.
Campos's crown earns her a shot at the Miss Cinderella State Pageant in May. There, Rubio said, she will have to bring something that represents Sunnyside and give it away to another child. "She'll get judged on what she takes," Rubio explained.
The State pageant is a weekend-long event, but for wee ones like Campos, they try to make it fun. "They're going to have a fairy party and she'll get to dress like a fairy."
For her efforts at Saturday's pageant, Campos received a crown, sash, trophy, certificate and charm bracelet, which features a Cinderella shoe and a lighthouse representing Port Orchard. The more events Campos participates in, the more charms will be added to her bracelet.
Rubio said that while Campos doesn't really understand what she's earned, she does have fun playing with her crown.
"She just grabs her crown and starts clapping because everybody was clapping when she got it."