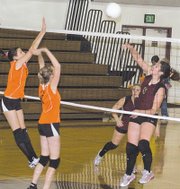 It's been a lean season for the Sunnyside Christian High School girls volleyball team. The squad found success last night, though, as Sunnyside Christian's varsity claimed a 3-1 victory over the visiting Zillah JV.
For the Lady Knights, Monday evening's win was only its third regulation-length victory of the year. Last night's win also avenged an earlier loss this season to the Zillah JV, a 3-0 decision claimed by the Leopards back in mid-September.
In knocking off the junior varsity team from Zillah last night, the Lady Knights had to fight back from a 25-23 opening game loss.
"After a slow start we pulled ourselves together and started playing our game," said Sunnyside Christian Coach Stephanie Greydanus.
"I think we started the first game half asleep.
"We played great in games two, three and four to win the match," she added.
Sunnyside Christian won the last three games of the match by scores of 25-17, 25-15, 25-9.
The leader at the net for the Lady Knights was 5'10" sophomore Maddy Wavrin. She soared for a team-high 12 kills.
Also coming through big at the point of attack were 5'11" senior Kelly Newhouse and 5'9" junior Janelle DeGroot. Newhouse ripped 10 shots through the Leopard defense that were unreturnable, and DeGroot added a six-kill effort.
Setting up the majority of those spikes were setters Ashley and Alyssa Haak, who between them tallied 13 and 12 assists, respectively.
Service line standouts for the Lady Knights included the eldest of the Haak girls, the senior Ashley, who successfully put 16-of-17 serves into play. DeGroot added a 16-for-19 performance from the service line with the younger Haak, the sophomore Alyssa, going 14-for-16.
Sunnyside Christian (3-10) closes out the regular season schedule this coming Thursday at Klickitat.