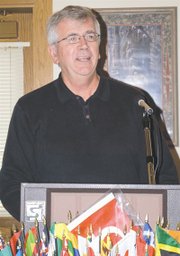 The Yakima Valley Office of Emergency Management is making it easier for Yakima County residents to arm themselves in preparation for potential disasters.
That is according to senior program analyst Charles Erwin, who spoke at Sunnyside's Noon Rotary Club meeting Monday.
"This presentation was set up a month ago and I was going to tell you how benign Yakima County is to disasters. Things have since changed," he explained, referring to the landslide on SR- 410 near Naches.
That disaster has taught officials many lessons and Erwin said Sunnyside is not immune to potential disaster, either. He said there are 54 potential hazards that can impact the county and its residents. Of those, eight hazards have had an impact on the county throughout history, including flooding, chemical disaster, snowslides and landslides.
Typically, Erwin talks to emergency service organizations and municipal governments regarding the county's emergency mitigation plan. He said it is important, however, that property owners are aware of the plan because of the tools provided in the plan.
Sunnyside has two main hazards that could impact the community. Those hazards, said Erwin, include a chemical release such as anhydrous ammonia or an event at the Columbia Generating Station, which could release radiation into the environment.
Because the Yakima County Hazard Mitigation Plan provides maps of areas that could be potentially harmed as a result of various disasters, Erwin said the maps can serve as a tool to prepare residents for disasters affecting their property.
"Every five years the mitigation plan is up for approval and organizations such as Sunnyside Valley Irrigation District become signatories," he shared, stating SVID signs the plan because of a high hazard dam.
The schools, hospitals and municipalities sign the document to become eligible for Federal Emergency Management Agency funding following a disaster.
"What this plan will do is give a vulnerability assessment," explained Erwin.
The hazard mitigation plan is currently up for approval and he said anyone wanting a CD containing the plan and its maps can obtain a copy through his office.
Sunnyside is within a 50-mile ingestion area of the Columbia Generating Station and Erwin said it would be wise for Sunnyside residents to be cognizant of that.
"If there was a radiation release, farmers' crops would be embargoed," Erwin explained, stating the challenge would be assessing the overall impact on the area. Recently, the Yakima Valley Office of Emergency Management found it didn't take into account the isolation of residents living in the area of the recent landslides.
"We now have an isolation plan and can advise residents to store necessities that will last them 30 to 45 days," he explained.
"We learned real quick how to meet the needs of residents unable to leave an area."
Of the potential hazard that is the Columbia Generating Station and the areas potentially affected by it, Erwin told the Rotarians plans are in the works to conduct a FEMA exercise to address a disaster scenario.