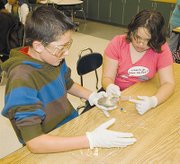 "It's gross!" scream sixth graders in Darla Van Corbach's class at Harrison Middle School.
"This is nasty!" they squeal.
A pre-Halloween scare-fest?
No, just a day of prying open dissected sheep hearts.
Van Corbach said the students are working through curriculum that covers heart health. She says the students have had their blood pressure and pulse taken. In addition students learned their body mass index.
It's all part of getting to know your heart, including its ventricles and arteries, the cardiovascular system that keeps a heart pumping.
All of that set the stage for yesterday, Monday, when students in each of Van Corbach's classes paired up to peer inside a dissected sheep heart and locate various elements of it.
Van Corbach explained that sheep are the closest animal to humans when it comes to heart structure.
"They can really see how small this muscle is and yet how much it does," she said.
After getting past some initial squeamishness, students jumped right into the exercise geared in goggles and rubber gloves.
"You can really see inside the heart," said sixth grader Maloree Kupp.
"I thought it would be softer," added classmate Cynthia Cardenas.
After getting over the initial squeamishness, they all went through with it.
Not only did all the students make it through the up close heart exams, Van Corbach said they'd like to try other organs.
In fact, after the "gross" and "nasty" yelps, Van Corbach said many of her students had one more thing to say, "Can we do it again?"