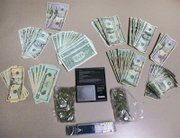 At approximately 10:30 p.m. last night, Tuesday, Sunnyside Police Officer T.J. Orth initiated a traffic stop on a black 1992 Honda Civic because of a defective brake light.
Upon contact with the vehicle Orth said he noticed the smell of marijuana coming from the vehicle. He asked the driver for his license and registration and noticed baggies in the glove box. The vehicle registration also had marijuana in the folds.
As the four occupants of the vehicle were being taken into custody one of the back seat passengers, 19-year-old Jose Antonio Cisneros, was searched and, according to Orth, found to be in possession of a digital scale, 34 grams of marijuana and more than $1,200 in cash. Also found in the vehicle was a box of .22 caliber bullets.
Cisneros was taken into custody and booked on charges of possession of a controlled substance with intent to deliver. The driver of the vehicle, 18-year-old Ricardo Espindola Jr., was taken into custody on charges of possession of marijuana and possession of drug paraphernalia, when a glass pipe was found in the driver's side door.
Upon arrival at the Sunnyside City Jail officers say they found three grams of marijuana on passenger Edgar Bernardo Chaves, 18. He too was charged with possession of marijuana.
Orth was assisted by officers Rob Layman and Darin Scott.