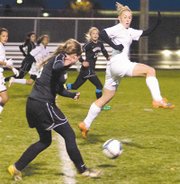 It was a cold, frigid night in the valley last night but the way the Sunnyside soccer team started last night's match against the visiting Wenatchee Panthers, no one watching would have known. They were on fire.
The Lady Grizzlies out ran, out passed and basically out played the Panthers for a good portion of the first half. The only thing Sunnyside didn't do was outscore Wenatchee.
"The girls came out fired up for seniors' night," Sunnyside Coach Jon Soule said. "When that emotion wore off or fatigue set in, we weren't able to maintain the level of play we started with."
Wenatchee scored in the 24th minute of play when Mindy Howard found herself wide open after receiving a crossing pass from the right side of the field.
The Sunnyside defense bounced back and held the Panthers scoreless for the rest of the half. The Grizzlies smothered the Panthers whenever they got the chance, limiting Wenatchee to just two shots on goal.
In the second half Wenatchee's relentless attacks started to wear down the Grizzly defense. The Panthers managed to get eight shots on goal in the second half, scoring on two.
Both came from Korynn Blanksma. In the 43rd minute she got through the Grizzly defense and found herself in a one-on-one situation with Sunnyside keeper Perla Ponce.
In the 78th minute Blanksma was able to score again.
Sunnyside finished the game with three shots on goal, all in the first half.
Liz Sustaita started at keeper for the Grizzlies and recorded one save. Ponce had six saves in the second half.
"Perla had a couple of really good saves," Soule said. "They were diving, stretching saves. She did a really good job."
Soule added that his seniors played hard and did a great job, something he said they did all season.
He said that coming out strong at the beginning of the season and getting some early wins, especially against Grandview, were some of the positives of the season. He also highlighted the play of Michelle Galvan.
The negatives were not reaching the team's goals of making it to Districts.
Sunnyside finishes the season with a record of 3-13.