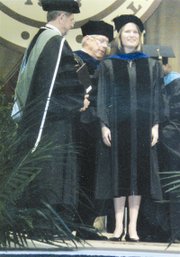 Ericka Souders, a 1998 Grandview High School graduate who earned her Ph.D. from Western Michigan University last spring, understands the importance of scholarship programs. Such as the Grandview Miss Program and Dollars for Scholars.
She understands the importance because it was programs like these that gave her a leg up while she was pursuing a doctorate degree in philosophy.
Souders said her college education began in high school when she enrolled in the Running Start Program. During her junior and senior years of high school Souders took classes at YVCC in Grandview. This, she said, allowed her to fulfill her general education requirements for college while still in high school.
"I was on the Grandview Junior Miss Court my senior year of high school, from 1997 to 1998, and I used that scholarship money to fund my last year at YVCC before transferring to Eastern Washington University," she said. "I was also a recipient of the Dollars for Scholars scholarship that was also helpful in funding my undergraduate education."
Souders completed her Bachelor's degree in applied psychology and followed that with getting her Master's in mental health counseling. In 2003 Souders moved to Kalamazoo, Mich. to pursue a doctorate in philosophy in counselor education and supervision.
Souders received several graduate assistant positions over these years that helped to fund her education, as well.
"The financial support I received early in my academic career through Junior Miss and Dollars for Scholars created financial stability and peace of mind as I pursued my education," Souders said. "It allowed me to focus on my studies while lifting some of the financial burdens."
Souders still worked while going to school but credits her early scholarships with jump-starting her financially.
"In fact," she said, "I have worked with clients in private practice as a mental health counselor for the past five years and with students at Western Michigan University.
"I encourage them to research local scholarships to help fund their education. Many young people and non-traditional students are unaware of grants and scholarships that might be available to assist them."
Souders encourages all students to start by contacting their prospective college or university's career center or financial aid department. She said many people are surprised to learn that they are eligible for grant money through the U.S. government.
A lot of this money doesn't need to be paid back if the students maintain an established GPA. Additional scholarships are also available by searching the internet or through local organizations.
"Education provides opportunities and that is something we all need in these tough economic times," she added.