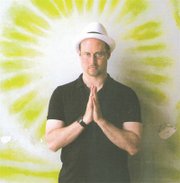 Teaming with bassist Boris Kozlov and drummer Donald Edwards for his second release on Sunnyside Records, pianist and composer George Colligan has released Come Together.
And though the CD kicks-off with a bang with Colligan and company pounding out an amazing rendition of the Beattles' Come Together, the edge falls off after that.
The next three songs drag along at a snail's pace. Two of the songs are more than seven minutes in length.
Things liven up again with Reaction, the fifth song of the CD. Colligan bangs on the ivories and the song is kept in check with Kozlov's bass lines.
Things slow back down with The Shadow of Your Smile, but Colligan's talent on the piano keys keeps the listener occupied.
Colligan grew up playing drums but switched to piano in his teens. He moved to New York City in the 90s and became the sideman of choice for several different musicians. Since then, he has released several CDs as a band leader that have received critical acclaim.
Lift, the seventh song on the 10-track disc, does just that. Lifting the spirits of the listener with its jazzy style, it all comes crashing down on Open Your Heart, a six-minute and 17-second song that is so slow it is better suited as a back drop for a soap opera.
While some songs on Come Together are worth a listen to, the album doesn't move me enough to where I would recommend it as a must-have.