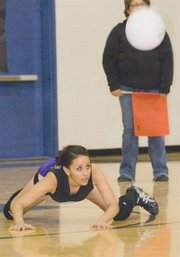 MABTON - The Lady Vikings ended their season with a disappointing 3-0 loss to the visiting Granger Spartans last night.
It was a battle on the court in the first game with Granger missing serves early. But, the Spartans picked up their performance as Mabton suffered from a lack of attack.
"We just gave them too many free balls," said Mabton Coach Marty McCallum, stating Granger took the free balls and easily set them to the Spartan passers.
Granger finally went on the attack and was able to find the openings in Mabton's defense, hitting the ball to the holes on the court.
"Typically our defense leaves the center open in hopes that the blockers are getting the job done," said McCallum. He said the job of his blockers is to take part of the court away from the attackers.
Unfortunately, his blockers were unable to match the Spartan attack.
"You've gotta penetrate the net to block and our middle (Jazzee Sustaita) had difficulty with that," McCallum shared.
Granger won the opening set 25-20 and held the lead in the second set for a 25-11 win.
"The Spartans had great serving,..it was hard and flat," McCallum recalled, stating the Lady Vikings had trouble with the serve-receive in the second game.
"We needed to get the ball set and we just weren't doing it," he commented, stating Mabton only had 15 assists on the night and his back row players struggled to pass the ball for the attack.
"When we did get the ball to our attackers, we did really well," McCallum continued.
Mabton rallied in the third set and was ahead 14-12 before the team "fell apart."
"Serve-receive trouble happened," McCallum explained, stating Granger was able to take advantage of the Lady Vikings' difficulties on the court and win 25-18.
The match marked the end of Mabton's 2009 season. McCallum said he loses five seniors. He said he has hopes that a more experienced team will be more successful during the 2010 season.
"It's been a great year and the brunt of my returning players will be the hitters and defense," he shared, stating many of those returning exhibited ambition and talent he believes will benefit them next season.
Mabton's record in SCAC play this year was 2-10, 3-11 overall.